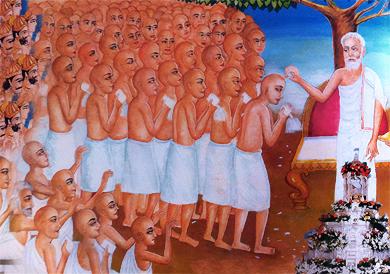 वंतं इच्छसि आवेउं, सेयं ते मरणं भवे
Want to drink the vomited? It is better for you to die
Who likes to lick the spitted? Who would like to drink the vomited? No one. Everyone hates the spitted and the vomited. Instead, they would prefer to die.
Similarly, those who have been initiated into sainthood and have renounced enjoyments of objects of senses, if they are again attracted towards memory of earlier enjoyments and want to acquire them, then their wish is hateful and worth renouncing like licking the spitted or desire of drinking the things vomited. It is better to breathe your last breath rather than long for this.
The wise men have compared the vomit with the objects enjoyed earlier so that a feeling of hate and detachment is born in the hearts of aspirants. This heartfelt hate of theirs is laudable and inspiring. Each aspirant should get inspired from this advice of renunciation from sense gratification.
- Dasavaikalika Sutra 2/7