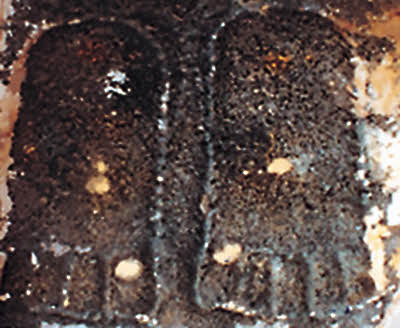 Both were grandsons of Lord Adinath and sons of Kaccha and Mahakaccha. Lord Adinath brought them up as sons. Before taking sainthood Lord Adinath distributed countries and villages to king Bharat etc. Nami-Vinami were not present at that time. They didn't get their share. When they returned, Bharat was ready to give them their shares but they refused 'you took from Lord, we too will take from him'. They went in Jungle and served Lord Adinath. They cleared the ground, sprinkled water and begged ' O Lord, give us our share, Lord Adinath remained silent according to his vow. With open swords they served Lord and with utter modesty, begged and requested. It was hard to convince them. First of all they were fully ignorant of sainthood and its vows and virtues, secondly they had faith in Lord and his devotion.
Today you can see some people visiting temples, instead of becoming devotees they become beggars or bargainers. Lord ! Give me this and give me that or give me this much I will offer you one coconut. That is a pure bargain or a business policy. A straight forward rule is this that beg and you will get only that much. Don't beg and you will get so much, that it will be out of your imagination. Ask only for Moksha-Salvation and nothing else and you will see every thing is at hand. Nami and Vinami with their faith and devotion attracted Dharnendra deva. He came to bow Lord Adinath but he saw them and their devotion
He was very much pleased. O Grand sons of Lord Adinath ! your begging and serving will not be fruitless. Lord has abandoned the whole transient world and its affairs. I am also devotee and you are also devotees. Let me serve you, come with me I will give you kingdom.'
He took them to Vaitadya Mountains and handed over the throne of Dakshin Shreni-South Zone (50 countries) to elder Nami and Uttar sreni-North Zone (60 Countries) to Vinami along with 16000 Vidyas. Just on reciting them, celestial cars appeared or they flew like birds or fire-water appeared from no where. Such miraculous things happened through the power of Vidyas. So the whole dynasty of Nami-Vinami was called Vidyadharas.
They both took diksha and with 2 crore saints achieved here eternal bliss-salvation on the date of Falguna Shukla 10.
Chetan ! Glorify your eyes with the sight of these two footprints both facing different directions and both having their own doors.
Chetan ! Fold your hands and say 'Namo Siddhanam'.
Chetan ! Let me give a hint of one more extra ordinary fact. Here you see only the foot prints of Nami Vinami, but in the main tunk of Lord Adinath, near Rayan tree, there is one lobby and in it the above mentioned whole story is as if reflected in marble.
Chetan ! Sixty four daughters of Nami, also attained salvation on this very holy Mt. Shatrunjaya on the 14th day of Magha Krishna.
This Article is taken from