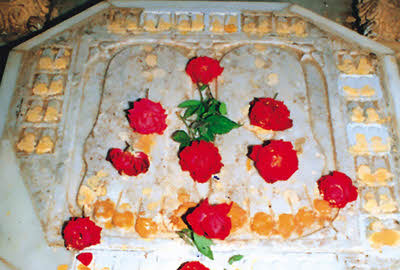 While doing the palitana jatra we come across Shri Pundarik Swami's foot prints. While climbing up, on our right, there is a little dehri with a good history. Some say ''History is a capricious creature depends on who write it.'' Yet here we see ''it depends on who make it.''
This and many such dehris, situated at frequent intervals are recondite subjects to visitors. Yet stalkers like us, get the up-to-minute fascinating facts and figures, dig out the terrific history astonishing the historians.
The little dehri on our left is rendered sacred by the paduka or footsteps of Pundrik Swami. Hence we get 'Pundrikgiri' name of this hill. Lord Adinath ordered him. So he, with five crore obedient munis did here penance and achieved salvation. Say 'Namo Siddhanam.'' Chetan ! The winding path, paved with rough and tough stones all the way up, interrupted here and there by regular flights of steps is just in front of us.
On our left, there is a temple attributed to Govindji Jewet Khona. We bow to Lord Dharamnath ''Namo Jinanam.''
This Article is taken from