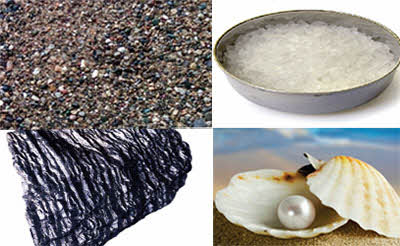 Gatha 3
फलिहमणिरयण विद्दुम,
हिंगुल हरियाल मणसिलरसिंदा|
कणगाई घाउ सेढी, वन्निय अरणेट्टय पलेवा||
Gatha 4
अब्भय तूरी ऊसं, मट्टी-पाहाण-जाईओ णेगा|
सोवीरंजण लुणाई, पुढविभेआई ईच्चाई||
PRUTHVIKAYA : Pruthvikaya jiva are living beings having earth, soil, minerals, etc as their own bodies, also known as earthly bodies.
The different kinds of earthly bodies are stated below:
Quartz, pearl, gem, cinnabar, orpiment, realgar, mansheel, mercury, metals like gold, silver and platinum, chalk, red clay, aranetto, coral, mica, alum, soda, sand.
All varieties of stones, rocks, antimony, salt, etc are also categorized as earthly bodies.
---
Reference
1. Jain Life Science by Smeeth Shah
---