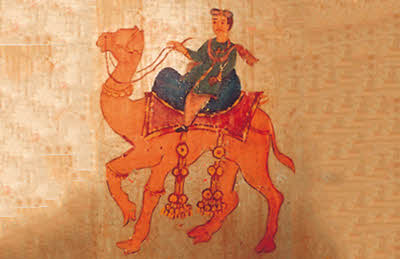 Chetan ! Here we enter an interesting place. There is a room like place. People coming out seem pleased and people entering it are curios and eager to know some thing. Well they are anxious to know their fate. Because, this small room contains a statue of a camel. On it is seated a man. The camel man is standing near the camel handling it.
People are trying to cross the camel's legs with a very little gap. It is a very amusing experience and a good exercise.
One who cannot pass through it is sad and one who passes out easily is overjoyed and boosts upto death for passing this hard examination.
Why ? Because it is said that only one who is virtious can pass and the sinner fails.
This attracts every man and woman of any age equally. And not visiting or performing this show or not giving or taking this self examination one curses ones own fate and regards the pilgrimage incomplete.
But why the camel ? It could have been an elephant or a beautiful horse ?
Chetan ! There is a good history behind it.
Nearly 800 years ago, Seth Pratapdas lived in Patan. He kept an oath to visit Lord Adinath of Shatrunjay on Kartik Sukla 15th . He kept fast on every Kartic Sukla 13,14,15. He made this journey on camel back. It became his routine. He visited Palitana, kept his oath and after worshipping Lord Adinath, he would take food and water ending three days fasting.
But once, the monsoon being dull, heat increased. Reaching Vallabhipur, the camel man begged the thirsty Seth, to drink water. But the Seth refused to break his oath. Oath was dearer than life. So the camelman too, didn't take a drop. Thirsty as they were, they continued their journey.
Any how, Seth, camelman and the camel reached the Taleti- the basement of great holy hill Palitana. But reaching it, due to thirst and exertion, Seth swooned and fell on one side, camelman on another side and camel too fell there. Three lives were lost. An example to be written in golden ink.
Nobody was told to cry. Yet every eye was shedding tears. Every head bowed to the trio. In the memory of such great devotee and as the Seth wished to reach Lord Adinath, he was, in the form of statue, placed for ever near Lord Adinath. Say 'Pranam' to him.
Chetan ! Now be alert by saying 'Namo Jinanam' to every temple that comes on our way. The temples on the left side are….
1. Temple of Vimalnath dating far as VS 1688
2. Temple of Ajitnath built in VS 1688
3. Temple of Sahasrafana Parshwanath (Thousand hooded snake covering Lord Parshwanath) built in VS 1815
4. Nalin Manohar Dehri
5. Temple of Dharamnath
6. Temple of Sri Chandra prabha
7. Temple of Sri Parshwanath
8. Temple of Sri Sumatinath built by Jagat seth of Murshidabad
9. Temple of Sri Shantinath
10. Temple of Sahasrafana Parshwanath
11. Temple built by King Kumarpal, Sovereign of 18 Countries
It is said that once Jagat seth was sitting near Yamuna River. One yogi approached him and recognising him as the great donar-famous for his spontaneous givings, offered him Chitamani-Ratna. This precious stone has been a dream of many many. Worshipped properly, this stone is said to open the lock of one's luck by giving every thing asked. Jagat Seth accepted it and threw it in the flowing stream of Yamuna, begged O yogi ! I wish your blessing alone. It is far better and precious than any diamond in the world.'' That is our Jagatseth, a man of non-attachment. It was built in VS 1376-77. The interior gate of the Garbhdwar is full of beautiful carvings surrounded by 24 dehri's. This temple and its stone is ageing. There is an urgent need of its restoration and resurrection.
The history of Kumarpal Temple was given at kumar kund. Remember it.
This Article is taken from