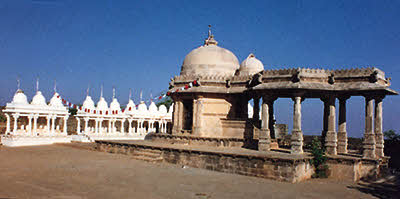 Shri Pujya Tunk comes across us while doing the palitana tirthyatra. Chetan ! From here on your left side goes an old way,which is totally neglected, so let us walk on the newly built stone steps.
Climbing a little higher on our right hand, comes Sri Pujya Tunk. From here you can see the great temples of Nav Tunk on the hill top reaching skyhigh..
This Sri Pujya Tunk has been built by the inspiration of Acharya Sri Devendra Suriji of Tapagachha. There is a Vav – a deep well with stone steps leading to its level. With one small dehri on each corner, the well too is worth considering.
This Article is taken from