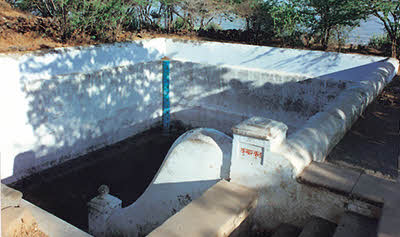 This Historical place speaks to us of the great King Kumarpal.
Ruler of eighteen countries and a strict follower of Ahimsa – Non-Violence 'King Kumarpal' brought here a pilgrimage on foot. Thousands of men and women joined. As they reached Palitana, King Kumarpal, refused to take the title of Sanghpati free and wear the Sanghmal. He said "Whoever offers more money should be given the chance of becoming Sanghvi. The 'Chadhava' bargain began. On one side was King Kumarpal and on other side was his own minister Vagbhatta.
One lakh gold coins.. four lakh.. fourteen lakh… and suddenly a voice came from (audience) back one crore 25 lakhs. Every one was stunned and spell bound. It was a boundry shot "unchallengeable".
One…two…three…and the Chadhava ended. Every eye was eager to see which millionare was so lucky. The audience and the King were taken aback to see a man named Jagadu- coming forward, clad in simple dhoti and cheap clothes. The King's suspicion reached its peak "How this man is going to pay the giant amount?"
However Jagadu Seth, knew it by facial reading and he produced a sparkling diamond and placing it in the King's hands said, 'Sir, As I always prefer to pay first and then take the chance, please take this diamond and find out its cost."
The diamond merchants were asked to test it. Eyeing it and observing thoroughly through their well accustomed expert eye, they declared that the exact price was one crore 25 lakhs."
Jagadu Shah was garlanded with the Sanghmal.
King Kumarpal also wanted to spend here his money. So he got a temple named Kumar Vihar built in Vaghanpole just outside Hathipole on our left. And in the memorandum of the sangh he built this Kumar Kund.
Like a magnetfield the atoms are such that the atmosphere and the surrounding is so good that a second event also took place here.
Vastupal-Tejpal were both brothers and as ministers of Dholka, built a great temple on Mount Abu Delwara with the finest carvings in the world, attracting lacs of men from all over the world. They had a good hobby. They organised totally 12 and half charipalak Sanghas-pilgrimages on foot.
Once they were descending this holy hill after worshipping Lord Adinath, with thousands of pilgrims of the foot pilgrimage..
A group of gardeners, with their baskets full of different kinds of flowers was climbing up. In collecting flowers,it became late. Both met here at this place i.e. Kumar Kund.
Poor gardeners were crestfallen ''Oh ! The whole sangh has come down and our wish to earn has melted away as ice.'' Their eyes were wet and tears rolled down. Flowers have a day's life. Next day they become useless.
Vastupal and Tejpal saw their tears and to cheer them up told the whole accompanying lot. "Friends, for us not only Lord Adinath even this whole Hill is worth worship so all of you are requested to take these flowers and shower them here with perfect devotion."
Vastupal and Tejpal paid them so much that crying they came, laughing they went.. The hand kerchief of generosity wiped off their tears. Tears changed to cheers. Saying Jai Adinath. they went home dancing joyously.
Chetan ! Feel those virtuous atoms.
This Article is taken from