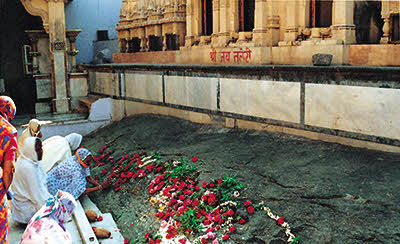 Jay Taleti – the worshipable part of the holy basement, the beginning of holy hill Shatrunjaya.
Chetan! Here you see small deharis, containing marble foot prints of Lord Adinath, who visited here 99 purva times; of Lord Ajitnath and Shantinath, who stayed here during the Chaturmas- a period of four months stay at one place; Lord Abhinandan Swami, by whose inspiration the eighth great resurrection of the Holy Shatrunjaya was performed and the likewise footprints are there. Its left and right sides too are full of miscellaneous small deharis with different foot prints.
Chetan! saying 'Namo-Jinanam' to all, let us come near the holy Taleti. In the middle we see three big deharis and on both sides there are four small deharis.
Underneath we see the preserved holy portion of Shatrunjaya Hill, sometimes covered with golden foils, sometimes with silver foils. Sweet smelling flowers like roses, chameli etc. are scattered everywhere. The garlands show the sense and spirit of adoration.
Though the whole hill is holy and worshipable, yet as it is impossible to worship the whole hill, this much part is preserved. Everyday milk and water is poured over it in the form of Abhishek, cleaned and worshipped with saffron and adorned with flowers.
First of all, you should touch your head with great reverence, at this preserved portion. Then you should perform Chaityavandan etc.
This Article is taken from