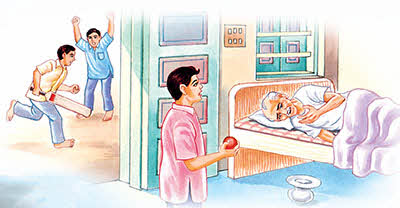 Service of humanity is service of god
Pulak was playing cricket with his friends. His friend Shlok was the batsman and he hit the ball so hard that it landed in someone's courtyard. When Pulak went to retrieve the ball he noticed that the door of the house was open and an old man lay on the bed.
Pulak went close to him and asked him, "Uncle are you alright?" The old man replied, "Son I am not well and my son, Raju, who looks after me is on a business tour". Pulak said, "You are just like my grandfather, don't worry I will look after you".
Pulak took the old man to the hospital. The doctor gave him an injection and some medicine. On way back home, Pulak purchased some fruits. He cut fruits and served them to the old man with love. At night Pulak returned to his home to sleep. As soon as he entered his home, his mother shouted, "The whole day you roam on the scooter. Petrol is so costly."
Pulak lowered his head and silently went to his bed. He was feeling nice that he had left playing to serve an old man. He was hungry but his mother neither listened to him nor asked him to have food. He slept hungry.
In the morning he again went to see the old man, served him fruits, gave him medicines and returned back. In the afternoon he did not go to play but took care of the old man by changing his clothes, feeding him and cleaning his place. The old man felt nice in his company so asked him to stay back.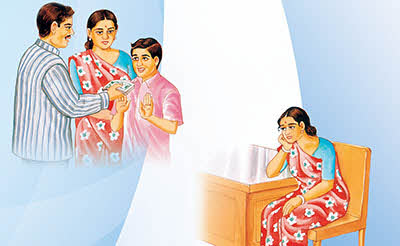 On the third day Raju returned from his business tour and his father told him all about Pulak. Raju immediately went to Pulak's house and met his mother. He told her the entire story about Pulak's helpful behaviour and attitude. Raju said, "You must be very proud of your son. Inspite of not'knowing my father he decided to help him and also used his own money for helping him. He didn't expect anything in return but please give him this money, Rs. 5000/- as a token of my appreciation."
Pulak's mother was stunned to learn of her son's behaviour and she felt truly blessed that her son had chosen a path of selfless service and went out of his way to help people, without expecting anything in return. She felt that when you help others without expecting anything in return you will be rewarded as it had happened with Pulak. When Pulak came home she hugged him and blessed him.