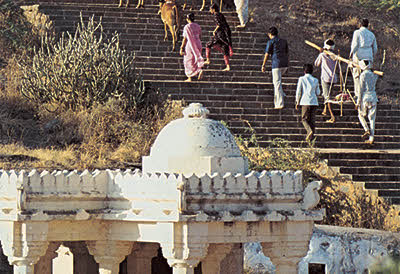 Chha in Gujarati means six and Gau means two miles i,e three kilometres. Pheri means going round.
Thousands and many time lakhs of people come here on Phalgun Sukla 13 and go round the holy hill on foot.
In other days the above mentioned pilgrimage is OK yet when the calendar discloses the date of Phalguna Sukla 13, you should change a little and go round the hill as well as to Lord Adinath.
Visiting Lord Adinath and coming out of Rampol, you can see the crazy rush of people walking down to your right.
This Article is taken from