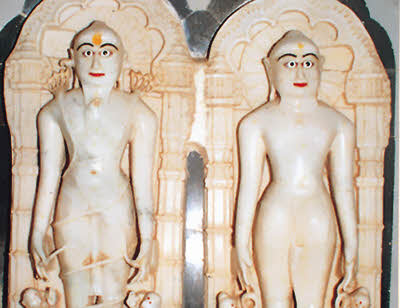 The idol of Bharat Chakravarti standing in deep meditation,
Bahubali's idol is also visible here with long beard and moustache, he remained so still that birds mistook him for a tree and they built their nests in his long beard. His whole body was covered with bushes.
While doing single-combat war with elder brother Bharat, Bahubali renounced the world, but pride overtook him. ''If I shall go near Lord Adinath now, I will have to bow to 98 younger brothers. So let me achieve Kevalgyan first''.
Sadhvi Brahmi and Sundri came near him and addressed. ''O, Brother ! Dismount from the elephant, if you wish Kevalgyan.''
Hearing these words from his own sisters he was taken aback. 'Elephant'! which kind of elephant ? Oh I am mounted on elephant of pride''
Becoming modest, he shook off his pride and took a single step, wishing to bow to 98 younger brothers. And at that very moment, he achieved Kevalgyan. This incident is shown here in marble statues.
This Article is taken from