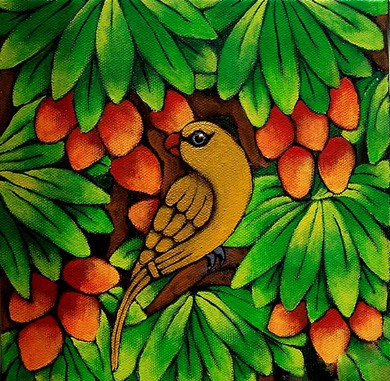 Alpaśrutam śrutavatām parihāsadhāma
Tvadbhaktirēva mukharīkurutē balānmām |
Yatkōkilah kila madhau madhuram virauti
Taccāru – cūta – kalikā – nikaraikahētuh ||6||
Meaning :
Oh Lord! I know the limitations of my knowledge. I know i have risked being laughed at by the wise for my attempt to create hymns in your praise. But my heart overflowing with love for you makes me vocal. Just as the cuckoo who is ignorant about the rules of music, begins singing in her melodious voice seeing the first blossom of spring and smelling the fragrance of buds of mangoes, my heart which is filled with love for you prompts me to sing unabashedly.
Similarly, Acharya Manatungasuriji states that whether critics consider this Bhaktamar Stotra as a beautiful poem or a mere pun, he is indifferent.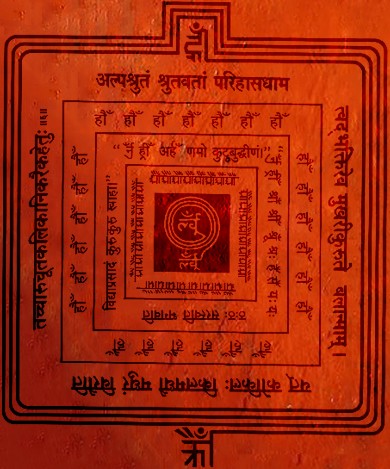 ऋद्धि: ॐ ह्रीँ अर्हँ णमो कुट्ठबुद्धीणं|
मंत्र: ॐ ह्रीँ श्रॉं श्रीँ श्रूँ श्रः हँ सँ यः यः ठः ठः सरस्वति भगवति विद्याप्रसादं कुरु कुरु स्वाहा|
Ritual: On chanting this stotra and the riddhi mantra, and keeping the yantra with yourself, one can gain knowledge faster and never forget what has been learned. Also, a person can overcome any mental disorder and the problem of stammering.
Effects: One can become a master of arts and speech.
---
Reference
1. Bhaktamar Darshan – Acharyadev Shrimad Rajyash Suriji
2. Bhaktamar Stotra – Diwakar Prakashan
---