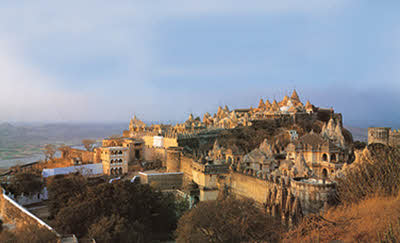 1. There goes a saying ''Structure of Ranakpur, Art of Abu, Height of Taranga, and greatness of Palitana are uncomparable.
2. This holy hill is named Shatrunjay a winner of enemies after King Shuka. The historical event is like this in nutshell…King Shukraj went to pilgrimage. He had a very beautiful queen. King Chandrashekhar using the magic given by a wicked diety, took the form of Shukraj and entered the harem. When the real Shukraj came he was driven out. Roaming in forest, he met his father-muni, Makardwaja, who was kewalgyani. Bowing to him, he stated his misery and asked how to get the kingdom back. The muni showed him a way out of this cul-de-sac state. Go to Shatrunjaya, choose a cave and do there penance for six months. Foes will become friends. Kill enimity and the enemy is killed. When he finished six months meditation, his enemy Chandrashekar flew away. The truth shone like thousand suns. The real king Shukraj was welcomed. He announced that the miracle was due to Great Palitana. The enemy was won. So from this day it was named Shatrunjaya winner of enemies. After reigning a long time, he too took diksha and achieved kewalgyan and the final beatitude.
3. One Kalchakra-time period wheel has two parts. One half is known as Utsarpini which means increasing. In that so called period every thing increases age, height, power etc. The other half is called Avasarpini which means decreasing. Every thing decreases. Every one faces the down fall. Age, wit, wisdom, mental ability, body stamina every thing goes on decreasing. Now we are in this half i.e avasarpini. Each have six Aaras-parts. In the first Aara of Avasarpinikal, this holy hill enjoyed the height of 80 yojanas (1 Yojan = 4 Kosa, 1 Kosa = 2 mile i.e the total height was 640 miles), in second Aara 70 yojanas, in third Aara 60 yojanas, in fourth Aara 50 yojanas. Now in the running fifth Aara, it has the height of 12 yojanas and in the sixth it will be just 7 hand high from the sea level.
4. This holy hill's height will increase and decrease, but it will never perish. It is ad infinitum.
5. The Taleti, foot hilll of this holy hill has changed five times in the course of time.
i. First Taleti – Vadnagar:
In Gujrat state, near Taranga hill. This place is a wellknown centre. Pilgrims visit it. There are age old Temples of Lord Adinath etc. Nowadays this village is getting the form of a city.
ii. Second Taleti – Vallabhipur (Vala) :
The year VS 430 saw the holy Taleti at Vimalapuri. But 1500 years ago, the Vallabhipur kingdom was established. So the name Vimalapuri was changed to Vallabhipur.
iii. Third Taleti Ghetipag – Aadpur :
In the era of Lord Adinath too, this place was used as a main foot hill. Lord Adinath ascended from this way.
iv. Fourth Taleti – Old Taleti :
This place is in Palitana city near the Kankubai Dharamshala. Padliptpur is the origin of the name Palitana. The history behind the name is given like this : In VS 457 Acharya Padlipt Suri was born in the city named Koshala. Pratima and Fhulchand were his mother and father. Acharya Sri became a well known scholar esp. in herbs and a master of many vidyas. His knowledge of botany was a great boon to him. With 108 herbal extracts he used to make a paste. Pasting it at foot, the great Acharya flew in the sky like a bird. Daily he flew to Shatrunjaya, Girnar, Pawapuri etc. Once after visiting Shatrunjaya, he went to Dhankapuri. A man named Nagarjuna was too much astonished to see him flying. He became his disciple. Bowing at feet and smelling the paste, he collected 108 herbal extracts. He too made the paste, yet he was not able to fly properly. Acharya Padliptsuri was pleased at the skill of the man in smelling. He showed him the fault. Mix the paste in the rice-extract. Nagarjuna was overjoyed. He succeded in flying. In reverence and sweet memory of the great Guru, he established the city naming it Padliptpur after Acharya Padlipt Suri. Doing here 'anasan'-fasting for 32 days, Acharya Sri went to 2nd Devloka-Heaven. (Shatrunjaya Kalpa vritti) Colonal Tod says that once this city was reigned by a king of Buddhism belief. Buddhist texts being in Pali language, this city was named Palitana. Yet, our mind does'nt agree with this story. The previous one seems more liable.
v. Fifth Taleti – Jay Taleti :
Nowadays the place from where we start climbing is the latest and last of this centuary. Manmohan pag is its original name. Every one coming here hailed to Lord Adinath calling 'Adinath ki Jay' so it gained the name 'Jay Taleti.'
6. Sinners and souls who will never achieve salvation can't even see it.
7. Doing two days fasting without water and doing seven yatras, one confirms his salvation. In third birth, he will achieve the state of final beatitude.
8. Lord Simandarswami has said there is no pilgrim centre equal to Holy Hill Shatrunjaya in the whole universe. Doing 30 fasts, standing on one leg and gazing directly at the sun, this kind of penance done in other pilgrim centres is lesser than a single fast done in Palitana.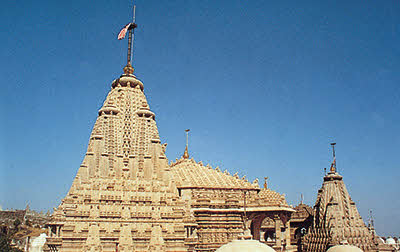 9. From the foothill to RamPol the distance is measured 3 km and 3.15 hectometre.
10. From the foothill to RamPol there are 3745 steps.
11. Every day thousands of pilgrims are served sweets with utmost respect in Bhata Khatu at foot hill. Every pilgrim after accomplishing the holy visit to Lord Adinath is welcomed and served there without any charge.
12. This holy hill is named city of temples. Dr. Rasesh Jamindar states that this hill has become a city of temples. In the whole world we cannot find a second example.
13. The distant scene from Vallabhipur etc places is also wonderful. It looks like a seated elephant with the curved trunk and an Ambadi in the form of 'Sava Soma Tunk' placed upon its back.
14. In 'Navtunk' there are 125 temples, 739 small dehris, 11474 idols and 8961 foot prints.
15. The main tunk of Lord Adinath is at 1077 ft. height from the sea level.
16. According to 'Shatrun-jaya Mahatmya', One who missed to visit this holy hill, is yet in his mother's womb and is like an animal, be he human or deity.
17. India Government issued a stamp on this holy hill in 15 August 1949. Yet according to Jain Philosophy, this is not the proper way to show the reverence. Stamping seals again and again on it, is not agreeable.
18. The monthly 'Abhiyan' 18 march 1996 printed an article ''Shatrunjaya Teertha ki Choti Choti Bate (Small tips on Shatrunjaya Teerth) of Naresh Shah. In it, it has been stated that, Acharya sri Gunratna surishwarji has written a book named ''Ankhadiye me Aaj Shatrunjaya Deetho Re and the other book by the same author is ''Sau Chalo Siddhagiri Jayeea.'' The back cover carries a Photo with a line printed below. Acharya Sri Gunratna Suriji, Specialist of Shatrunjaya mental pilgrimage.
19. King Srenik of Magadha Country, a great devotee of Lord Mahaveer Swami, built here numerous temples.
20. The vanished scripture named Vidyaprabrut contained 21 names of this holy hill.
21. This Shatrunjaya is compared to a big ship in the ocean of worldly miseries. Sit in it and your are saved, leave it and you are drowned. The fierce crocodiles and alligators of anger, pride, sensuality etc. cannot harm you. Standing on the bank or at the dam, and looking at the holy hill, one is apt to see the form of ship with a flag of main temple, waving to and fro.
22. A Grand Gift : Acharya Sri Tulsiji of Tera Panth once came to visit here. After doing 'darshan' he was very very pleased. Hearing the praise of Shatrunjaya from his goodness, a Terapanth devotee presented here a precious diamond. Anandji Kalyanji Pedhi takes care of that diamond (Every Terapanthi and stanakwasi is requested to do the same by visiting this holy place and join the path of devotion.)
23. Forbes in Rasmala quotes-Looking at west from Shatrunjaya summit, if the sky is clear with enough sunlight, one could see Girnar Hill of Lord Neminath.
24. Looking eastward just after sunrise, one could see the ocean brought by sovereign Sagar for the protection of this holy Hill and its diamond idols.
25. Lord Adinath visited this holy hill 99 Purva times. One Purva is equal to Purvang square. One Purvang is 84000 yrs. Therefore 84000 x 84000 = 1 Purva i.e 7056,000,000,0000 yrs x 99 = 6985 44 000 000 0000 times Lord Adinath came to this holy place.
This Article is taken from