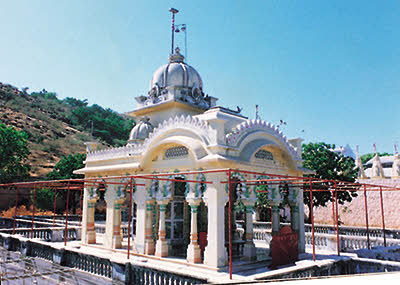 We come across the Pawapuri Jalmandir while doing the pilgrimage of siddhagiri. Entering it we get 'darshan' of Lord Mahavir and Gautam Swami.
Lord Mahavir, the 24th Lord attained Nirvana, salvation in Pawapuri near Raj-Grihi of Bihar State. Even now, if you go there, there is the temple built in a beautiful lake surrounded by big red lotuses. The temple is called Jal Mandir – A temple in water. The same model has been built here, so that people can get the good idea of Pawapuri.
And the main cause behind building this temple is that Lord Mahavir came here and preached a good lot in the Samavasaran.
In memory of that incident, this temple and a dehri of Lord Mahavir is built on the way.
Entering Dhanvasi Tunk, on our right hand we perceive a double locked room.
This Article is taken from