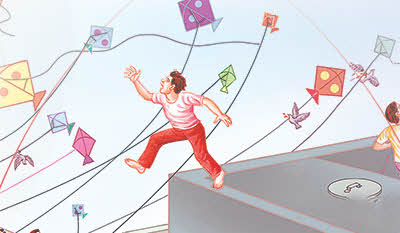 Don't enjoy at the cost of others
• The thread used to fly kites is made of glass pieces. This can be very harmful to birds. Their legs get entangled in the thread; they bleed and die of pain. The thread can also harm their wings and prevent them from flying.
• Many children stand on terrace, balcony or wall edges and get engrossed in flying kites. They lose their balance and fall, which can kill them. • Sometimes while running after a kite on the road the children may not see a speeding vehicle and get run over.
• Children should fly kites in open ground or area where accidents can be avoided. Also take care that birds don't get injured.